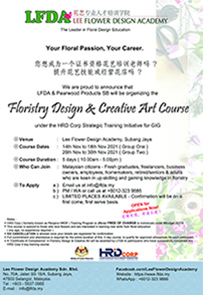 Your Floral Passion, Your Career

您想成为一个证书资格花艺培训老师吗?
提升花艺技能或经营花店吗?

We are proud to announce that LFDA & Pearwood Products SB will be organizing the

under the HRD Corp Strategic Training Initiative for GIG





❈

Venue : Lee Flower Design Academy, Subang Jaya



❈

Course dates :
14th November to 18th November 2021 ( Group One )
26th November to 30th November 2021 ( Group Two )



❈

Course duration : 5 days ( 10.00am-5.00pm )



❈

Who can join : Malaysian citizens - Fresh graduates, freelancers, business owners, employees, homemakers, retired / seniors & adults who are keen in up-skilling and gaining knowledge in floristry.



❈

To apply :
a ) E-mail us at : info@lfda.my
b ) PM / WA or call us at +6012 - 323 9886
c )

LIMITED PLACES AVAILABLE

- confirmation will be on a first come, first serve basis.

Open for Application Now!

Notes :


❀ HRD Corp ( formerly known as Penjana HRDF ) Training Program is offered FREE OF CHARGE to individuals under #Budget 2021#
❀ This course is opened to those who love flowers and are interested in learning new skills from floral education ( any age, no experience required )
❀ NO CANCELLATION is allowed once your details are registered for confirmation.
❀ Full commitment and attendance is required for the entire duration of this 5 day course, to qualify for approved allowances for each participant.
❀ A "Certificate of Competence" in Floristry Design & Creative Art will be awarded by LFDA to participants who have successfully completed this HRD Corp 5 day training course.